---
azray wrote:

With the fill tube at the bottom of the tank ,once the fuel rises above the pipe level, all the air in the tank must exit only through the vent . The vent must not be large enough to allow the full volume of nozzle flow to enter the tank, So the fuel is backing up in the fill pipe.



That's what has always seemed to be the case, in the years (since 1989) i've owned the vehicle. I can't be certain that the fuel is backing up the fill pipe, but something is going wrong in there and at least a few times (mostly years ago) i have heard fuel filling the fill pipe. Yet this last time, the tank was low enough that the fuel was below the fill pipe and the pump still kept clicking off right away.



Quote:

I think it needs a larger vent, or slower fill flow.



Not sure how either of those can happen. I've been using the slowest possible fill rate for many years now—below the flow rate at the lowest/slowest preset on the nozzle. Some stations have more or less eliminated slower flow (Costco seems to be one of these) to get people through faster. At stations like these, the nozzle is nearly binary: full on, or off. I am limited in my options for chasing around to gas stations with slow enough flow, fewer and fewer of them every year.

I don't see how i can modify the vent sizing legally on a California van registered and used (and having to pass emissions tests) in California. I think all i can do is fine-tune everything to ensure it is working at peak design performance. Legalities aside, unless i vent to atmosphere, it would take a lot of bodywork and pipe bending and welding to increase the vent size from the tank back to the top of the fill pipe (and i don't know how the Stage II vapor recovery pumps will react to that).


********************
As far as i can tell and azray has posted above, during a refueling operation, the only meaningful venting is:

1) Through the fill pipe when the fuel level is very low.
2) Through the 1/2" diameter vent line from the top of the tank to near the top of the fill pipe.


I happened to be using this vent line (the nipple at the sender unit) as the air input for my rollover/vent valve/line testing. The moment i broke the air hose seal, the tank vented down in just a few seconds (maybe 3, but i didn't count). There is no restriction in this line, at least where it exits the tank through its nipple on the sender. There is no restriction all the way to the top of the filler neck, per earlier testing with the pieces apart, out of the vehicle (see my posts above, this thread).

The problem as i see it is that the Chrysler engineers appear to have designed this vent run to be horizontal—level horizontal. This makes little sense to me, given bulletin no. 14-06A-78 August 9 1978 which matv91 kindly described. I would have thought that they'd design in a gradual or not-so-gradual slope from the fill pipe fitting to the tank nipple, so there would be no possibility of liquid fuel pooling up and blocking the vent. But they didn't. As best i can tell from what matv91 wrote, my 1981 van came from the factory with the mod: it is mostly hard line for this vent line, with short runs of 1/2" hose where necessary.

So why am i having so much trouble filling the tank? I still don't have a clear answer, but there is this: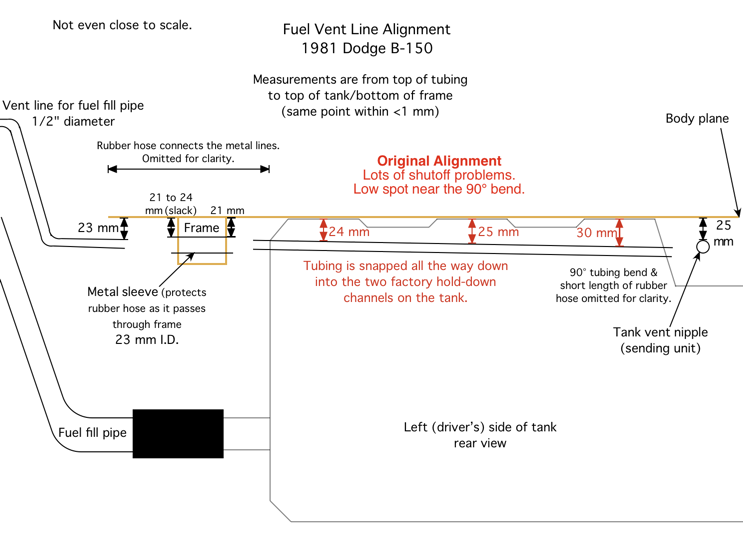 Measuring pipe*/hose height of this vent line to any common reference i have found very difficult. The least worst option seems to be measuring from the top of the pipes to the top of the tank (for the pipe attached to the top of the tank) or to the underside of the body (which appears to be a flat plane at the points where it matters) for the hard line exiting the filler pipe and the pass-through metal protective tubing.

* It's metal tubing or line, but pipe is shorter to type, so i'm going with it.

What we see here is how things were in recent years. Note that the slope is all good until one goes around the 90° bend on the tank to the nipple, where there is a 5 mm rise. With tubing around 11 mm ID, this shouldn't be enough to create a full liquid trap, but it is a low spot.

I spent a long time with the tank on the ground, getting it level, then measuring the level/out of level of this tubing. As the numbers would indicate, there was a nice downhill slope from the left side (where the hose from the top of the fill pipe connects) to the corner, then uphill to the vent nipple on the sender.

Years and years ago when i got the van, there was some sort of rag material or something stuck under this pipe. I didn't understand why and took it out. That may have been bad. I have shimmed up the vent pipe where it snaps into the tank (two points), so that now when the tank is level, the line is level from the sender nipple to the 90° bend, then has a very slight up slope over to where the pipe ends (hose attachment to fill neck vent pipe). Here are the numbers for that: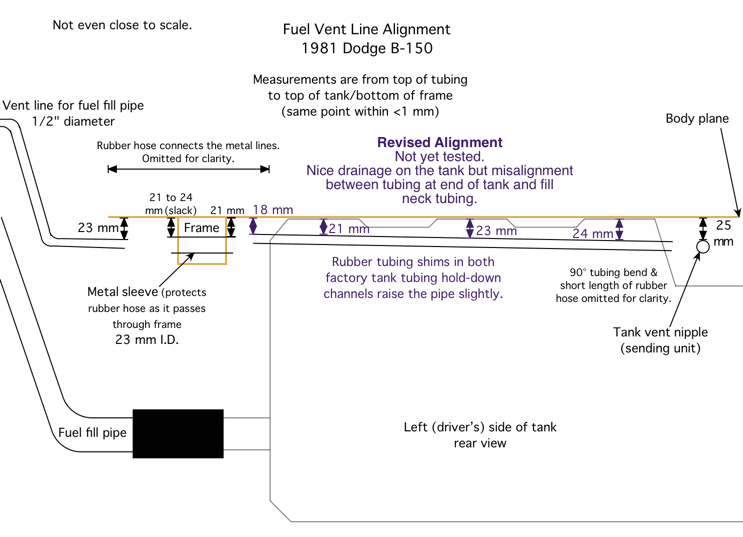 There's still a mismatch, now along the hose run as it mates the end of the tank pipe at 18 mm to the top and the end of the fill pipe vent at 23 mm to the top.

I really don't know what else i can do here. I'm also concerned because there really ought not to be any liquid fuel getting into this vent line in the first place. The vent line attaches to the fill pipe just behind the metal plate with the filler nozzle restrictor and flap. My understanding is that those pieces and where the line attaches should prevent, or at least minimize liquid fuel from getting into that vent line. As long as i'm not overfilling/topping off, i don't see how/why this vent line would get fuel in it.



))

Sonic

((